Hibiscus flower possesses a huge amount of hidden beauty benefits, especially hibiscus powder on skin whitening. Right from the ancient time, hibiscus has been one among the favorite ingredients for keeping human skin lightening and hair healthy.
Why Hibiscus Powder for Skin Whitening?
Hibiscus used as the main ingredient on face beauty mask, skin cleansers, hair packs, and so all over the world. The hibiscus flower is enriching in a flavonoid called anthocyanins because of that experts prefer hibiscus for skin whitening. The flavonoid anthocyanin plays a key role in beautifying your skins and hair.
Benefits of Hibiscus Powder
The compounds found in Hibiscus flower gets rid of the free radicals which are present on your skin due to environmental damage or stress factor.
Hibiscus contains alpha-hydroxy-acids (AHAs) that exfoliate your skin by removing all those facial black marks.
The antioxidants found in the hibiscus flower helps in reducing skin inflammation significantly.
The presence of amino acids and other bio-active compounds in hibiscus boost hair growth.
Hibiscus used as natural dye thanks to the presence of nutrients. It shows a promising sign on turning premature hair greying.
The antimicrobial property of Hibiscus makes it to use as a scalp scrubber. It shows a promising sign on reducing hair dandruff and head itchiness problem.
List of 3 DIY Hibiscus Face Masks for Skin Lightening
If you are looking for a DIY face mask made from hibiscus powder for skin whitening, then you are in the right place. Here we have listed top 3 hibiscus face masks which will get rid of your skin lightening worries.
1. Hibiscus Lavender Face Mask:
Ingredients:
Hibiscus Powder 1 Teaspoon.
Lavender Powder 1 Teaspoon.
French Green Clay 1 Teaspoon.
Adequate Amount of Yogurt, Honey, & Water.
Making Procedure:
Mix all the above-listed flower powders along with the French green clay in a bowl.
Add adequate amount of yogurt, water, and honey and make it as a thick paste.
Now you need to apply the paste directly on your clean face. Allow the mask to dry mostly it will take 4 to 5 minutes and wash it away.
It is highly recommended to use this face mask for 2 to 3 times in a month for better result.
Benefits:
Exfoliates face skin.
Antioxidant.
Hibiscus for skin heals all types of skin problem.
2. Clay & Hibiscus Face Mask:
Ingredients:
Hibiscus powder 4 Teaspoon.
Honey 1 Full Teaspoon.
Apple Cider Vinegar 1 Teaspoon.
Bentonite Clay 6 full Teaspoon.
Adequate Water.
Making Procedure:
Mix apple cider vinegar, and honey with the hibiscus powder and blend it until it gets as a thick paste.
Now, clay & hibiscus face mask is ready.
Apply this face mask on your clean face; once it dries wash it with warm water.
Benefits:
Enhances your face skin glow
Clears your skin pours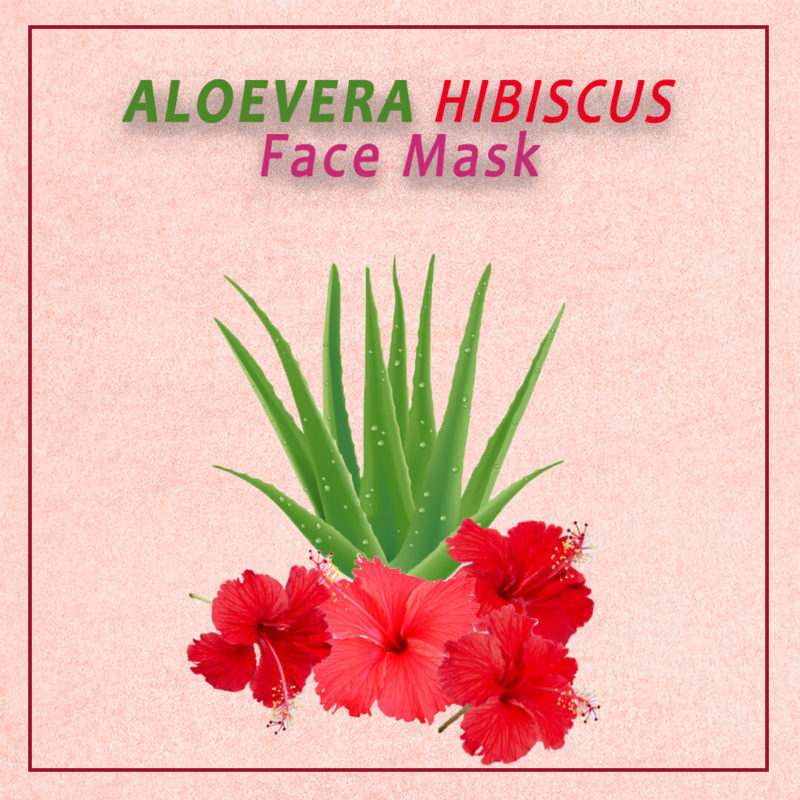 3. Aloe Vera Hibiscus Face Mask:
Ingredients:
Hibiscus Powder 1 Teaspoon.
Adequate Amount of Aloe Vera Gel.
Sufficient amount of Yogurt.
¼ Cup of brown rice.
Water as needed
Making Procedure:
Add brown rice to the hibiscus powder and mix it well.
Blend the mixture by adding an adequate amount of Yogurt and Aloe Vera Gel until it becomes a thick paste. If needed, you can add some amount of water as required.
Apply the paste on your face skin and leave it for 15 minutes. Once the mask gets dried, wash it by warm water.
Use this face mask minimum of once in a week for better result.
Benefits:
Maintains face skin moisture
Reduces skin inflammation
Bottom Line
All the above-mentioned DIY face masks for skin whitening are so simple and can be done without any professional help at home. Using hibiscus powder for skin will keep skin moisture and maintains skin elasticity by adding extra glow.