If you are a non – alcoholic person and want to have freshness in your life then a perfect recommendation is to take a fresh mocktail (non-alcohol). Mocktail drinks are better than cocktails, especially this Nattfru mint blast mocktail is the best you can have!
This mint blast mocktail comes up with 100% Natural and qualitative ingredients.
It is a lyophilized (freeze-dried) product. Enjoy the natural and free from chemicals preservatives. By consuming this product surely brings an amazing freshness to your body. Nattfru mint blast mocktail is made up of real fruits with no added colors or artificial flavors.
Ingredients needed to serve this Nattfru mint blast mocktail – a fresh non – alcoholic drinking product:
To make this fresh mocktail here are the lists of ingredients required
One (1) handful of raspberries should be added to a bowl.
Then step 2 speaks about One (1) handful of blueberry in it.
A fresh mint leaf to describe the name of the mocktail and to make the drink even more attractive and eye-catchy so that people try to catch the freshness by looking onto the product.
One (1) Oz lime juice up to 30 ml in it.
By adding one (1) tablespoon of agave nectar your drink look will change and taste will enhance even more than the visibility and in case if you don't have agave nectar you can go for honey ice too. Thinking of how many spoons of honey ice to be added? So the answer is one (1) tablespoon.
You can add one (1) splash of soda water or if not then you can replace soda water with seltzer water.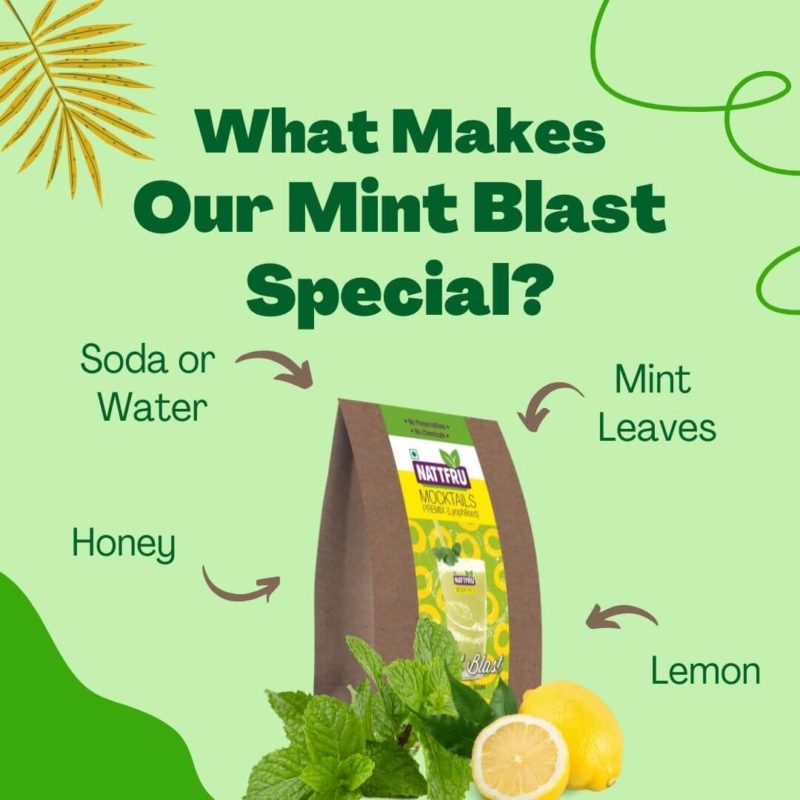 How to make Nattfru mint blast mocktail drinks?
Let's just dive into the procedure of how to prepare this fresh drink!
Initially, you have to take a tall glass and then have to put all the collected raspberries, blueberries in the said proportion.
Add the mint leaf to the top of your glass so that it makes your drink look elegant and fresher.
Add the lime juice (30 ml), a sweetener like you can add honey onto it.
To maintain the freshness you can add ice into that tall glass to cope up with the cold freeze vibe.
Shake it well! And in case if you don't have the shaker you can use two glasses to mix and shake it until properly mixed.
Garnishing is the best part after making the drink, hence for garnishing we can use berries and mint leaf to make it a perfect one!
After this, you are good to serve or drink this fresh non-alcohol nattfru mint blast Mocktail.
Hence you are ready to drink a mocktail.
Specialty Of Nattfru Mocktail
Contains high vitamin c.
This drink makes your body fit as it contains low fat.
You can consume this drink even at the times of winter.
Summer and winter are the two seasons when you can intake this mocktail.
No refrigerator is required to store this drink you can use seltzer water to keep it cold and freeze.
A better and great drink for house get together, picnics, office parties, etc.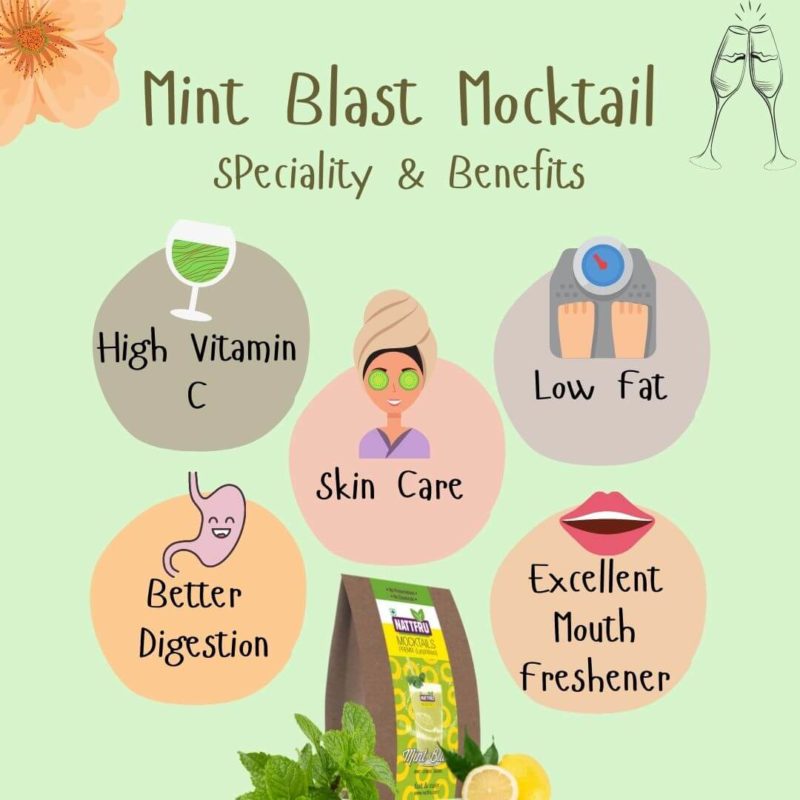 Benefits of Mocktail
The main ingredient of this Mocktail drink is the Mint. Mint is one of the popular herbs often used as a mouth freshener right from ancient times. Mint has around 12 species and more than 100 varieties in it.
Take a look at the benefits of consuming Mint leaves.
Act as a relaxant and congestion reliever: People who are suffering from common cold symptoms like headache, nasal obstruction can utilize Mint leaves. 
Regulates Digestion: The aroma of Mint leaves triggers the salivary gland that develops digestive enzymes and facilities the digestion process. 
Skin Care: Oil extracted from Mint leaves has good antiseptic and anti-pruritic properties that can smooth your skin layers by getting rid of those itches and infections. 
Bottom line:
Freshness comes with Nattfru mint blast mocktail. If you are ready to drink mocktails, then it is recommended to consume this breezy freeze mint blast mocktail. Having mint along with drinks and food would act as a refresher in summer.