Blueberry powder is a well-known dietary supplement that acts as a perfect replacement for fresh blueberries. Blueberry powder is comprised of freeze-dried blueberry extract. It has the real fresh blueberry's nutritional value.
The powder derives from freeze-dried, wild organic blueberries. The nutrients of the fresh blueberry fruit are the same.
During the low thermal process, the berries are squeezed and extracted. It freezes every part of the berries, such as the skin, the pulp, and seeds. Blueberry powder, like real berries, should have a dark blue or purple color. You can make your favorite pancakes from blueberry powder rather than fresh or frozen blueberries.
Top 5 Recipes with Blueberry Powder:
1. Smoothies:
A classic way to improve your diet – blend your favorite smoothies with the wild powder. For an extract powder, you can avoid the mess and cost of using fresh blueberries.
The Blueberry Almond Butter Smoothie is the popular blueberry smoothies. They are prepared with bananas, powdered organic blueberries, butter, and almond milk. To add Omega 3 fatty acids, add flax seeds. Instead of yogurt, a Blueberry cranberry smoothie is made from kefir, giving you many polyphenols to UTI combat.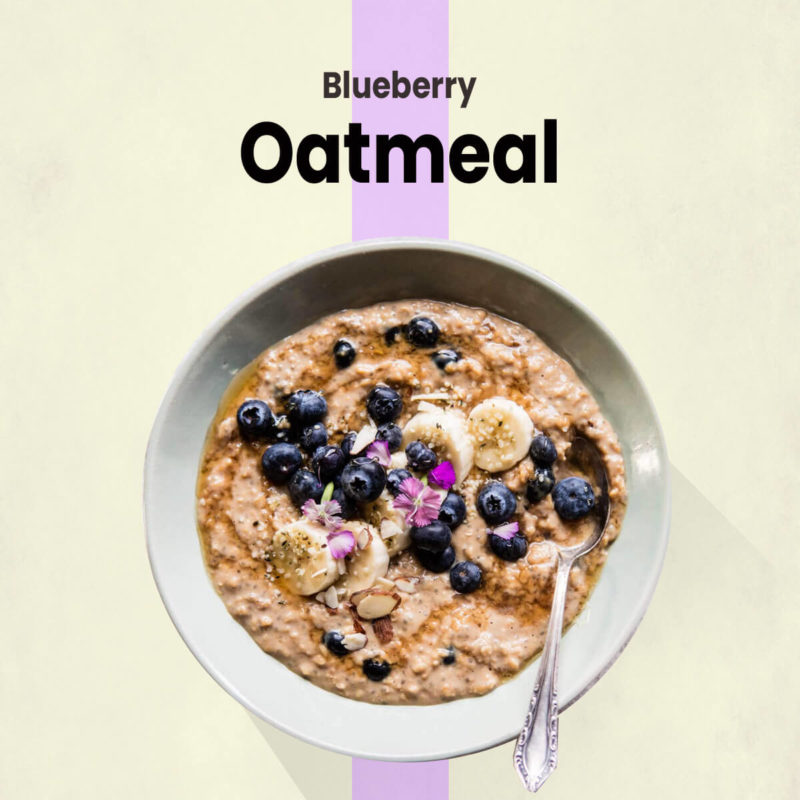 2. Oatmeal:
All know that oats are healthy, but they are considered boring by many people. The challenge is to find your preferred way to enjoy oats – whether they're cooked, instantly, or raw oats overnight. Blueberry powder is a convenient way for your oats to become more fun. We like to add our oats, even seeds, and nuts.
You can blend your morning oatmeal with powdered blueberries or add it to your yogurt. Add nuts to your nutritious breakfast for extra protein loaded with Omega 3 fatty acids.
3. Muffins and Cakes
In a dry mix of muffins or cake, add powdered blueberries, and then add water, milk, and wet ingredients. You can also use frozen blueberries with powdered extract if you bake a cake from scratch.
The powder can also be added to the icing of the cake. Instead of sugar, you should add homemade granola blend to cupcakes. Do not ignore that you could not add too much powder because of high fiber content to digestive problems.
Most people like pancakes once in a while for their breakfast. Suppose your pancake mix is to include blueberry extract powder. Without the fruity speckles, you can have the same taste and service of regular blueberry pancakes.
Using a few spoonful of powder into a blueberry pastry makes any simple pastry. It can also be made into beautiful flavored berry versions with creams and cake fillings.
4. Protein Shakes:
If you enjoy protein shakes before or after a workout, the powder provides you with an excellent additional booster to your protein shakes. It is an ideal addition to an active and balanced lifestyle, basically without sugar or fat with large amounts of healthy nutrients.
5. Salads:
The addition of a scoop of berry powder to the salad or a salad dressing is an effortless and enjoyable way to use wild beer polish. The blueberry powder is very well for simple green salads and Greek salads.
Health Protection with Blueberry:
Blueberries are nutritious, sweet, and wildly popular. Instead of fresh berries, powder uses for cakes and smoothies and has up to 8 months in shelf life. It is also perfect while you work because you can add it to milk or juice easily.
These are also called a superfood, low in calories, and extremely good for you. The blueberry antioxidants prove to be beneficial to your brain function and mental delay.
Blueberry powder uses to improve the health of your heart, neural activity, and many other aspects of your body.
Blueberries have anthocyanins that can be protected from cancer by flavonoids. They can also assist in cardiovascular disease and dementia.
Bottom Line
Being a natural supplement, the freeze-dried powder can be used instantly just like the fresh fruit. It has all the properties and values that fresh blueberries possess. So, just like blueberries, freeze-dried blueberry powder has incredible health and nutritious benefits.